Where does the time go.
Okay, this past weekend, was a very satisfying creative one. I had set my mind to conquer two new skills. Etching of copper, and wire riveting.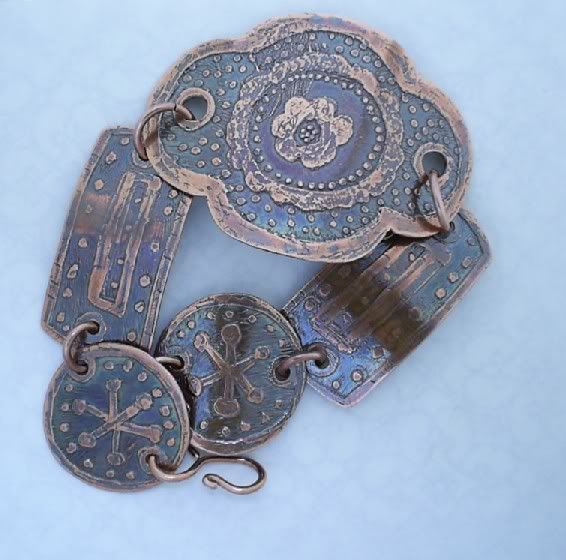 After an entire morning and 6 broken saw blades, I got the center link cut. After that, I seem to have gotten the knack of sawing copper, and the next four links went well. Fabricated of 22
GA
copper sheet, and hand cut
jump rings
. Treated with liver of
sulphur
to antique, and then tumbled to harden. This experiment will be a private piece (the etching is not very good, but I still love it), but I will definitely do similar things in the future. It is so light and comfortable, and makes a nice tinkly sound.
Saturday was spent on Long Island with family at a lovely Bar-b-
cue
. The weather was gorgeous and the company was wonderful as well. The hostess had requested that I bring some jewelry to look at. I sold some pieces, and also took on two commission pieces. Who says you can't mix business and pleasure.
Sunday was the perfect weather to stay indoors and tackle another skill- riveting. Since I don't solder (yet), I am teaching myself traditional "cold connection" techniques. Wire wrapping being on of them, riveting (with either wire or tubing) is very important as well.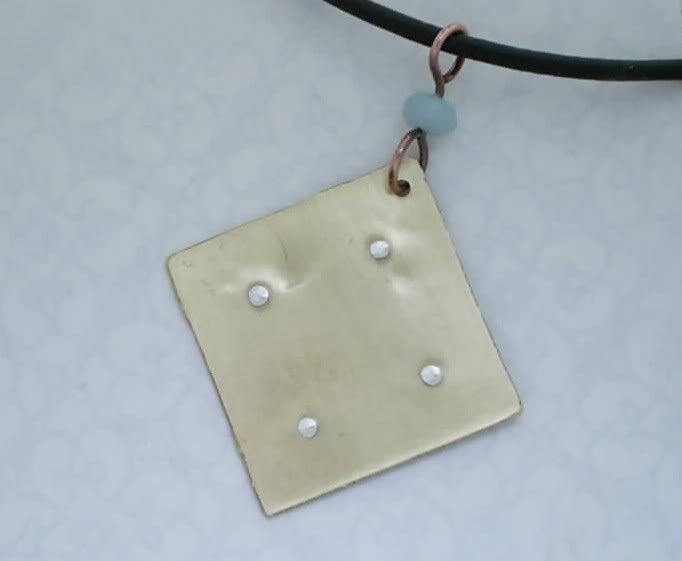 The pendant is composed of red brass (3 cm to a side), and copper, hand cut, then etched, tumbled and riveted together using 16
GA
sterling wire. Riveting is going to be one of those things I love because it is anal and finicky and a little tricky, but also so useful and decorative.
And last but not least, I made myself a lovely pair of copper earrings using a traditional Danish knot. I antiqued them, and then attached them to copper
ear wires
. The
ear wires
may not be a great idea, but I've been wearing them all day, and so far, no green ears...
You can check out what other talented people are doing at the
YOJ

blog
.