Well, as you can see from my previous post, I'm playing a little catch up. Week 29's submission, which was supposed to be "Mercury Rising", has nothing to do with that. I think maybe at some point I will revisit that theme, a modified caduceus has caught my imagination.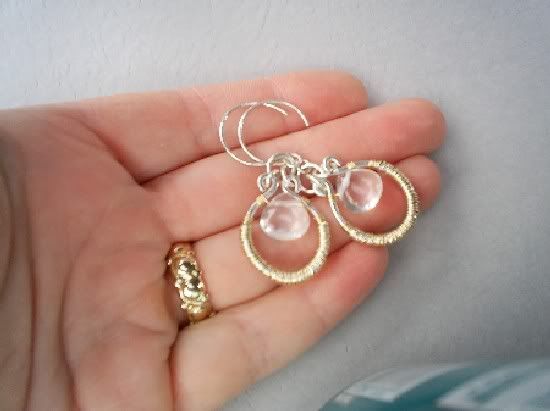 Instead, I offer a pair of earrings, 16ga sterling, wrapped in 24ga square sterling and 26ga gold fill, with quartz crystal drop. I rushed this, and should have used 24ga round wire, I think the gold filled would have seated itself in nicer with the round wire. Be impressed by my "mad" photography skills, soda can used as tripod (see lower right-hand corner). Taken in my car, in the parking lot of
Davy's Dogs
, on an old tax folder. Sometimes I frighten myself.
In the meantime, I had a chance to photograph the set I made with the idea of keeping my costs down for wholesale purposes.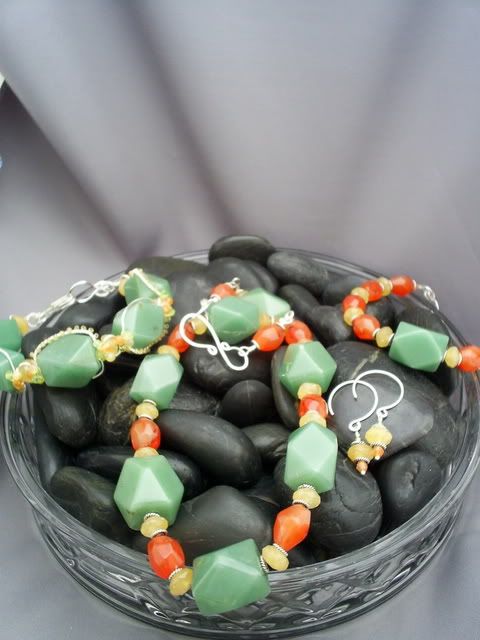 Its dark green aventurine or serpentine (I have to check on that) faceted nuggets, with carnelian and honey jade. I haven't priced them yet, but I do know that because they are primarily strung pieces, with handmade clasps, (I did make the bangle bracelet wrapped, but kept it a little more restrained) that my time was really reduced. I was happy to use those green stones, I've had them for ages, and think the colors are quite fun. I'll be very interested to see how they are received. I actually think the pictures came out nicely as well.
We go on vacation next week, I'm hoping to bring my tools and some supplies, and let the seashore refresh my outlook, and recharge my creative juices. Had another crazy weekend (will be discussed in next post with pics), and am ready to go away. How fast has this summer sped by?