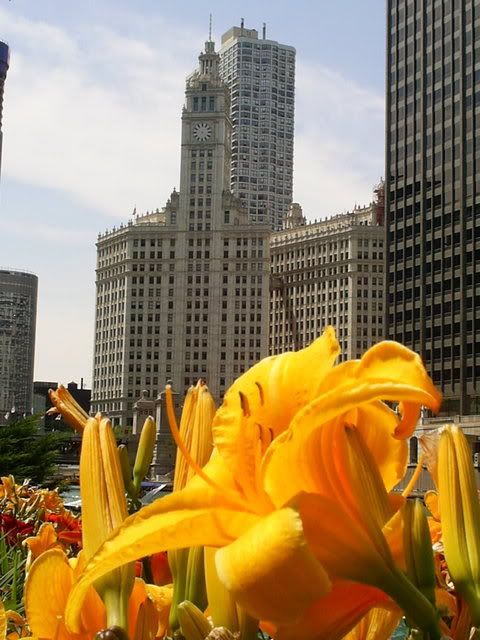 Well, this has been a very busy two weeks since my last post. Thursday, July 19th, my husband Scott and I and another couple, Henry and Ann, left our home in Bridgewater on what has now been named "The Odyssey".
We started out on a long weekend of baseball and shopping in
Chicago
. Got to
Newark airport
in plenty of time. Decided last minute that we wanted to check our baggage (Scott and I got lazy with the toiletry packing, what a PITA that
3-1-1
is). Standing in line to check-in (also forgot to print boarding passes, this should have been a sign as well) because the curbside checking was closed. A fellow traveller commented on how long the line was and wondered why no traffic was being allowed into terminal A? Unease is starting to set in. Suddenly, I spy a skycap opening up the curbside. We dash outside, and are second to get checked in. He types our info into his keyboard, "Your flight is cancelled."
"Cancelled? The board says 'on-time". This would become my husbands mantra for the rest of our time in good 'ol EWR.
Click clack on the keyboard, "Cancelled!"
"The board says "On-time!"
Seeing a pattern developing, the skycap wisely decides to go inside and investigate. After a few minutes he returns, "You must go inside, your flight is cancelled". I steer Scott away before an additional mention of the board, and we go back inside to a line that now snakes its way across almost the entire front of the terminal. (And, I will say, the board still announces an on-time departure for our flight).
Henry and I start dialing. I get through to
Continental
first. This is where I made my first major mistake. Why I only confirmed the cancellation of our flight during this first phone call, I can only chalk up to inexperience with airline snafus. We are very fortunate that we have only heard the airline horror stories. Our flying is primarily for pleasure, and is infrequent. Scott got on my phone and repeated his mantra to the lady, who could only tell us that the flight was cancelled for mechanical reasons, I think, not weather. Ann meanwhile, had been touching base with a friend trying to come in from Chicago, whose flight had also been cancelled. From her reports from Chicago and listening to those around us, we were able to deduce that all flights to and from Chicago that afternoon had been cancelled on Continental, and not because of weather.
I finally break from my travel fog and get back on the horn. We had planned to travel Thursday, and had bleacher tickets to a 12:15 start
Cubs
game Friday afternoon. The rep informed me that she could get me into Chicago Saturday at 1:00 pm or some such nonsense. Unacceptable. I asked to leave from another area airport. No flights tonight from any airport near us, to Chicago tonight. Unacceptable. Could we fly to
Milwaukee
? She could get us there 6:00am Friday morning, but because we were changing the departure itinerary, we would have to pay more. Again, unacceptable. This finally switched me into high anger gear. From my red haze I vaguely remember "How is this any way to run a business? I paid for you to get me to Chicago tonight, you have cancelled the flight for something other than weather, and now I'm willing to inconvenience myself to get somewhere near where I need to be, later than when I wanted to be there, and you have the nerve to try to charge me more?" Volume was high, but I did keep my wits about me enough to keep it clean. I was sure I could be very insulting and demonstrative, but once I got vulgar, I would probably get hung up on. To the reps credit she NEVER raised her voice, changed her inflection or tone, and was never anything but apologetic. She would have to get approval for waiver of fees from manager. Waiting, waiting, she comes back on to verify the change of itinerary, landing in Milwaukee on Friday at 6:30 pm. PM, no I thought we had been discussing an AM arrival, no, no AM arrivals from Newark to Milwaukee. Oh crap, because of noise levels, I had misheard her, and now we have to start all over again, and have lost valuable time in the process. People were snapping up whatever they could get, and we were changing plans for 4 people. Anyway, after two hours of wrangling, standing in line, talking to some interesting people who were all in the same boat as us, we got on a 6:30 am flight to Chicago out of Philly (with a switch in
Cleveland
) on Friday morning.
We hop back in the car, grab dinner, repack our toiletries, get a hotel room in Philly by the airport. (The
Renaissance
near the airport in Philly is very nice by the way, wish we had spent more than 5 hours in the room). Leave our car at the hotel (fingers crossed it'll be there Monday), take the shuttle to the airport, get through security (which is really bad at Philly, even at 5 am there was a serious line) and wait to get going on the first leg of our already way too long journey. The flight is delayed a few minutes, but the flight to Cleveland is uneventful and pretty pleasant on the little express jet. We love gate checking our bags.
We land in Cleveland five minutes after we were supposed to start boarding our connection to Chicago. Ann and I leave the boys to wait for the bags, while we run to scope out our next gate. Cleveland airport is very small (which for us worked out great). Our connecting flight is delayed until 11:45 because they have no crew, and there are no other flights going to Chicago from this airport today. Scott goes to scout out other departures, while Henry stands in line for our breakfast vouchers. Scott comes back, there is a flight to Milwaukee leaving in 20 minutes or so. We grab our stuff and run down the terminal. There are four seats on this blessed flight. We switch to that flight, just in time for the announcement that the flight has been delayed 20 minutes, and then another 30 minutes. Who doesn't want us in Chicago, let alone in time for the game?
They finally board us, and we take the 40 min(?) hop to Milwaukee. Whoohoo, we're getting closer! We're in the same time zone as our ultimate destination! We follow signs to car rental. Hertz- no one way rentals. Avis- no one way rentals, Budget no. Things are looking damn scary. Are we now going to be stuck in Milwaukee? The boys search from counter to counter, and the very last counter,
Dollar
, has a van for us, with a
navigation system
, thank goodness. Because although Scott has driven from Chicago to Milwaukee (for a baseball trip like this one), he has not gone from the airport in Milwaukee directly to Wrigley field, which is what we have to do now, because its getting late. An hour and fifteen of driving later (including a stop at an A&W stand,
Curds
anyone?),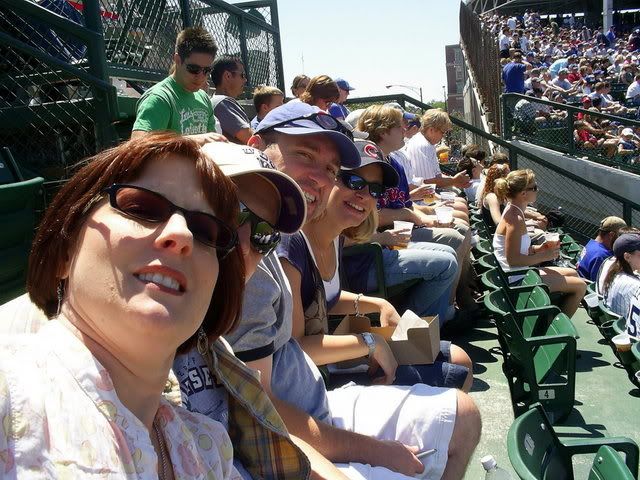 we are standing in the bleachers of
Wrigley field
to hear the National Anthem being sung, and see Dennis Miller throw out the first pitch. The downside, Fridays tickets are for the general admission bleachers, which means first, come first sit, last ones in get to stand behind the handicapped seating area, holding their beers.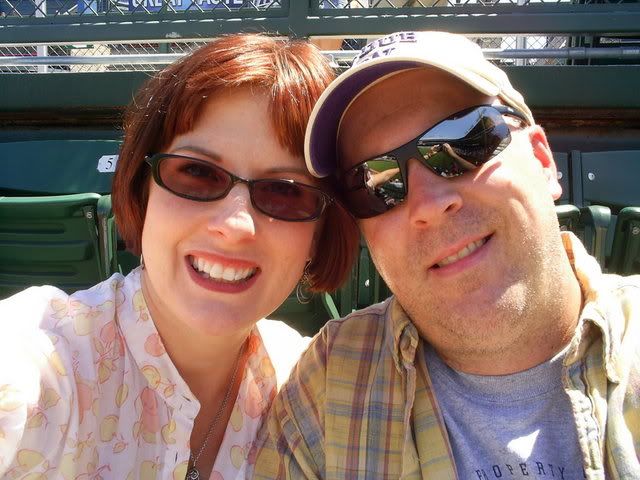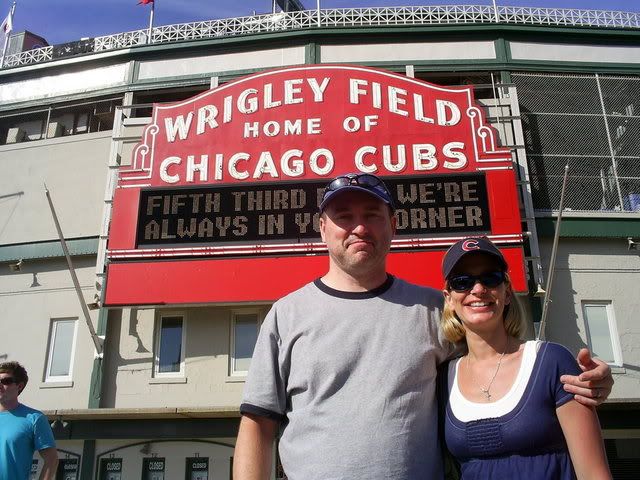 But, I will say this, where Continental failed us, Mother Nature turned it on, big time. The sun never stopped shining, humidity zilch, temps in the high 70's low 80's. Once we were finally in Chi-town, we had a great time. Dinner two nights at the
Weber Grill
(we like char-grilled meat), shopping on
Michigan Avenue
,
walking along the river,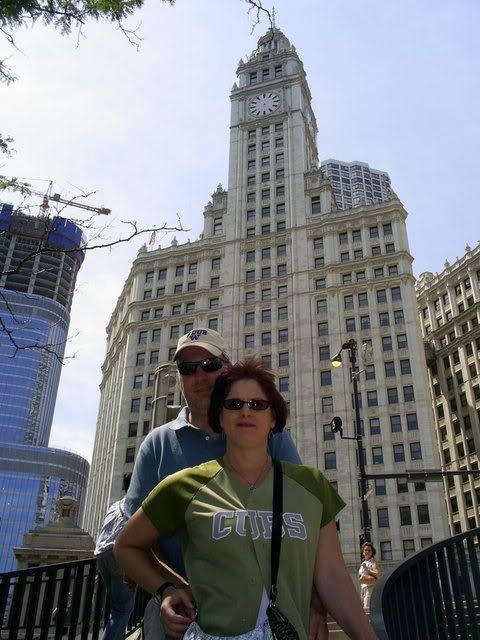 breakfasts at West Egg, more sunshine baseball games (with assigned seats).
We were even able to laugh about it as it was happening.