Here was my piece for week 28, called "Dragon Feather". It is 16 and 18 gauge sterling, labradorite and hematite. The bail is woven. Its pretty big, about 3 1/2 inches long. My sister in law helped me with my composition, when she sees it, I wonder if it's what she had in mind.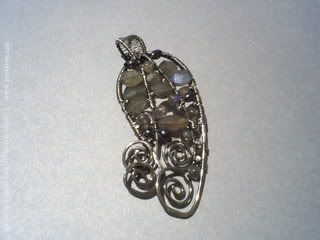 I felt pretty good about sticking to the theme this week. Next week is Mercury Rising, Bronze Beauty. We are going to Chicago for a long weekend, so I probably won't do something on theme, but more on that later.
Friday was my meeting with the owner of
The Farmhouse Store
, in Westfield New Jersey. Ed was wonderful and gracious and gave me some great advice regarding pricing, and I'll be back there with some different stuff for him to look at. He said my prices were fair if I were selling myself, but were too high for wholesale purposes. He showed me things that were selling really well for him. Funny, they are mainly chunky, funky fun pieces, mostly strung. Probably what I would have brought to him if we'd met a year ago. Our conversation challenged me to go outside myself a little bit. I am going to use only what I already have. I will do two or three very quick pieces with all the same components, and then will allow myself to do a piece that is more labor and materials extensive to give a range of price, while still allowing myself to attempt to wrap everything and anything that will stand still long enough in wire (these intial pieces will be my week 29 submission because of time constraints). He really loved two pieces that I was wearing (pictures will follow), but those of you who know me will probably know what I'm describing. He really loved my Eni-style cuff, with the big white lodalite stones and bali silver, and a necklace I hade made for myself with smokey quartz and pearls and a modestly wrapped quartz pendant. After I recovered from the relief that I had finally had this meeting (I am very nervous about talking professionally about my pieces), I went home and started having FUN with beads I had bought a year or more ago, and never did anything with.
So,I was a little sad, because I loved all the pendants I made for this and they all came home with me. But, I finally got my act together to speak to someone regarding my jewelry in a professional capacity and received some wonderful advice and validation. And, I have been challenged to make things that are my style, but at various price points to satisfy different markets.